We value our patients' experience at Advanced Medical Rehab of Slidell. If you are currently a patient, please let us know if you would like to submit a testamonial!
Dr. Jennifer Irwin
---
ADVERTISEMENT
COMFORT DURING PREGNANCY...
Dr. Irwin,
I cannot thank you enough for the wonderful care you gave me through the last 3 months of my pregnancy. I thought I would never find relief for the pain I was having in my ribs and upper back, but you knew just what to do! Also, the additional information you provided about pre-natal care was extremely helpful. Now, baby Charlee and I enjoy our visits with you so that we continue to be "well adjusted"!
Thank you,
April Spencer
A Happy Sleeper...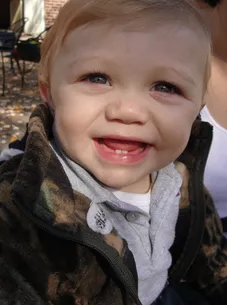 My 15 month old son started seeing Dr. Jennifer about a month ago. My son had never been a good sleeper and since birth, had been waking up at least 4-6 times during the night. I was getting frustrated hearing everyone else's stories about how there babies had been sleeping throughout the night for months. I was exhausted and was starting to feel like I was doing something wrong! I'd heard chiropractic could help with these things so I decided to call Dr. Jennifer. She assured me that I wasn't a bad mom and that it may be one of Ian's bones in his spine that may need to be adjusted. She was super gentle with him during the adjustment. After just a few visits, I noticed my son was a more relaxed and calmer baby. He started taking longer naps and seemed to wake up more rested. He began to wake up less frequently during the night and last night he slept all night long! Thanks so much Dr. Jennifer!

Kris
---
ADVERTISEMENT
Comfort During Pregnancy
My name is Danielle (Dee) Hynes, I'm 31 and live in Picayune, MS. I am a mom of two wonderful boys and expecting another little guy. I've been going to a Chiropractor for about 10 years now. I loved how much it helped me with my chronic sciatica and lower back pain. I moved away from my Chiropractor and was in search of a new one. I was about 3 months pregnant at the time and knew I wanted someone with experience with pregnant mamas. My doula recommended Dr. Jennifer and I'm so glad that she did. Right after I got her name and number I started experiencing some very bad pelvic pain, I couldn't stand or walk for more than 30 minutes before I had to sit and rest.
When I walked into her office she was so warm and welcoming. I had one bad experience with a Chiropractor so I was always afraid to try a new one. I'm so glad I mustered up the courage. It was very funny when she picked up one of the tools I told her that I preferred that she just used her hands because I had bad memories from a tool at the Orthodontist that made a similar sound. I know I'm weird but I could feel the pain in my teeth every time I heard that noise. She was more than happy to adjust me the way that made me comfortable. After about 4 visits I was so much better I could return to taking care of my two highly active boys. During my other pregnancies I experienced such bad pain in my tailbone that I had a hard time transitioning from sitting to standing, and I couldn't sit for long periods of time. I just realized yesterday that I haven't experienced any pain in that area at all this pregnancy. I believe that it can be attributed to Dr. Jennifer's adjustments.
After my success with her treatments I wanted her to check out my 5 year old that has complained off and on about leg pain for several years now. I asked during one visit if she could check it out and we found out that one of his legs appeared ½ inch shorter than the other. With a few adjustments his legs are even and he doesn't complain nearly as much. With continued care I'm sure it will be less often and resolve over time.
It makes me feel good to know that Dr. Jennifer is there with the experience I needed and is willing to adjust me according to my comfort level. She is so gentle and knowledgeable that I would trust her with any of my children, including the baby if he needs any adjustments after birth.
---
ADVERTISEMENT
COMFORT DURING PREGNANCY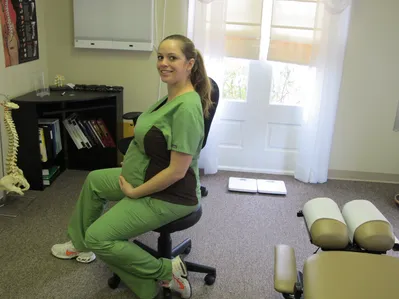 My name is Sierra Holloway. I am 24 years old and live in Pearl River, LA. I currently have a 2 year old little boy and am expecting my second baby boy in April.
In early 2010, I began having chronic sciatic nerve issues in both of my hips. This, coupled along with my already regular upper and lower back pain, was being amplified even more by working as a dental assistant. Sitting in my office chair all day, the pain was beginning to become unbearable. One day when the pain shooting into my hip became so unbearable that walking was an unpleasant task, I decided it was time that I find some help.
Several people in my office had been to Dr. Irwin and highly recommended her care. I was thoroughly impressed with the quality of her initial appointment. She ran through a series of exercises, questions, and visual tests that helped her to properly treat my issues. After my very first appointment, it was obvious that this is what I had been looking for: relief!
I have now been seeing Dr. Irwin for more than a year. The results have been wonderful! I am currently 7-1/2 months pregnant, and, with pregnancy, there is a whole new level of aches and pains. Dr. Irwin is able to address and correct my alignment issues without forceful manipulation. I love that she will explain to me what is causing my pain and what she is doing to help with it. I look forward to seeing Dr. Irwin weekly as I know that without her help these pains can become unbearable. I am thankful for her care and for her friendship.
---
ADVERTISEMENT
WELCOME BABY CADENCE!!!
My name is Julie Church and I met Dr. Jennifer Irwin about 6 months ago while I was pregnant. I was having ligament pain from the pregnancy in my belly and my hips from my job. I am a massage therapist and had to be on my feet for several hours a day even while pregnant. Dr. Irwin was able to stop the shooting pains in my abdomen with a gentle touch to my belly. She, along with regular massages, was also able to keep me pain free so that I could continue to work. I did my last massage before the baby came three days prior to delivery. I loved going in to be adjusted knowing there was no "rough" adjustment, only sincere touch from a caring health care provider. I was never once uncomfortable with how my body was handled during the delicate time of pregnancy.

On October 19th, 2010 my second daughter, Cadence Danielle was born. The delivery was very traumatic for both of us. After three hours of pushing and no sign of her coming on her own, the doctor was forced to use an instrument to pull her out. She was rushed to the NICU for further care and observation, where she stayed for 5 days.
When Cadence came home from the hospital I noticed immediately she just did not seem comfortable. She showed signs of acid reflux and was not sleeping for more than an hour at a time. She and I were both exhausted and looking for answers.

I took Cadence for her first adjustment by Dr. Irwin when she was three weeks old. That night she slept seven hours. Dr. Irwin explained the trauma of her birth may be the cause for the discomfort and reflux. I continue to bring Cadence in for adjustments and each time I notice a change in her behavior and mood. She is a very happy baby when Dr. Irwin sees her.

Along with the chiropractic care, Cadence receives a massage every night after her bath. I notice a negative change in her sleep when I do not give her one. She now knows what to expect and gives me a big smile when I am warming the lotion for her massage. She is now a very happy baby!
---
ADVERTISEMENT
Meet Tera....
My name is Tera Sappington. I am 49 years old. I live in Picayune, MS and am the mother of four children.
In January, 2010 I began to have trouble with my right shoulder locking up and becoming increasingly more painful to use. Since I was recovering from an illness spanning over two months, I thought it was only stiffness from being in bed so long. By March, I was experiencing shooting pains down my arm and back if I moved too quickly or if I tried to lift heavy items. One night, I swatted away a large mosquito by turning my right palm out and moving away from my face in a quick, sweeping motion. That motion resulted in paralyzing pain as the nerves fired down my right arm, down my back, and down my front right side. I was knocked to my knees in the worst pain I have ever felt. It was worse than giving birth!
As a result, I decided I needed help and sought the name of a good chiropractor as massage was not bringing relief. I had met Dr. Irwin at a Chamber function previously and was becoming more familiar with her through BNI (Business Networking Int'l). The next time I saw her, I asked if she was taking new patients. Thankfully, she was!
When I showed for my appointment, I was terrified. All I knew about chiropractic was the intense, physical manipulations described by friends who had been treated before. Dire warnings of pain were issued by almost everyone I knew. When I began to tell Dr. Irwin about my symptoms, I began to cry. I explained what was scaring me - the intense pain I was anticipating during treatment. She very calmly showed me the instrument she used, demonstrated the first level of treatment, and the rest, as we say, is history. My treatments were not going to be hard manipulations but a gradual release of fibrous tissue covering my shoulder and down my arm.
I am absolutely delighted to state that because of the gentle and compassionate treatment received by Dr. Irwin, I have regained almost full use of my arm without pain. I can lift my arm again and rotate it without causing any shooting pains! The remaining stiffness and tightness between my shoulders is all that is left to remind me of my previous condition. Without this treatment, I am positive another doctor would have required surgery. I am so thankful for Dr. Irwin - her professionalism, her (now) friendship, and for the way she conducts her practice. I have referred her to many of my friends and will continue to do so in the future!

Thank you, Dr. Irwin! I know without a doubt I am in a far better place because of your practice of chiropractic care!